"SILVER AGE" EP - AVAILABLE ONLINE:
TODAY IS TOMORROW... HERE WE GO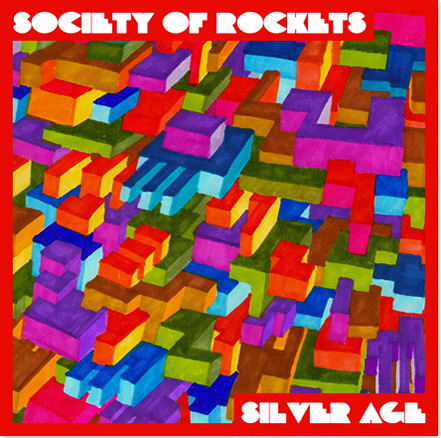 silver age
2011 - digital-only release
"We've made a deliberate attempt to excise American music from our vocabulary and instead turn outward to the traditions of other countries," says the band's lead singer, Joshua Babcock of this, their sixth release, and third in a series of global futurist explorations (also see "Future Factory" and "The World Inside").
For this session, the jet-setting the band collected sonic passport stamps from trips to the musical territories of motorik, samba, afropop, tropicalia, italodisco and Hawai'ian slack guitar,among other stops.
But the "Silver Age" EP, (the title of which tips its hat to the bygone era of sci-fi superheroics of the late 50s and early 60s) still can't escape its Western roots. For instance, "Telescopic Man," (Track 4) plays like a riff on the yuppie paranoia of Peter Gabriel and David Byrne's global pop experiments. And "Plastic Stars," (track 3) transcends man-made boundaries with its outer-space lullaby-ity. Babcock says that "Plastic Stars," was written after the band heard of Broadcast chanteuse Trish Keenan's tragic death earlier this year. "Now is Forever" takes a split-frame view of krautrock by way of Brazil, with a title and lyrical theme lifted from a Thomas Disch sci-fi short story. "It's about people using a machine that makes copies to remain immortal," says Babcock. "Each night their bodies are incinerated in the machine and a new copy is made - so they never age or die, but they can't remember anything either, and they live out this eternal cycle of amnesiac repetition."
"Silver Age" was recorded in 2011 at New, Improved Recording in Oakland, CA. Produced by the band with Chris Cline (...And You Will Know Us By the Trail of Dead, STEREO IS A LIE). Engineered and mixed by Chris Cline. Mastering by Gary Hobish (Willie Nelson, Dr. John, Creedence Clearwater Revival)