"this mind-bending marvel redeems and evolves the notion of modern psychedelic music."
glowing california psych rock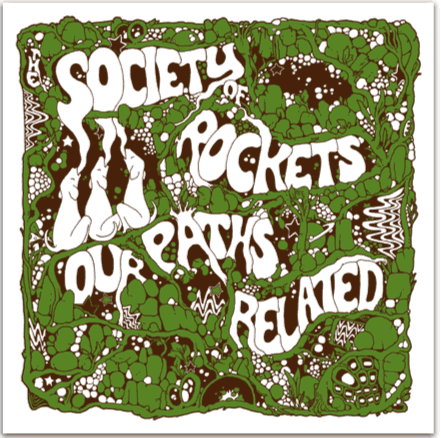 our paths related
2007
12" 180g vinyl long player
YES, it comes with a digital download coupon.
and away we go... "Part 70s fuzz-soul, part bleary-eyed shoegaze, part California sunshine-pop, the Society of Rockets' experiment machine chugs on, devouring all parts and functions in its wake and spitting out an ever-widening array of dizzying psych-rock gems. The latest full-length release in a long line of left-turns and surprises, "Our Paths Related" is a cosmo-tour of potentialities, a series of violent hybrids and stylistic feints, rooted heavily in the often (and unjustly) ignored black rock wing of psychedelia: early Funkadelic, Muddy Waters' "Electric Mud", Chains and Black Exhaust. But this is just the framework, the launching pad – a jumping off point to which other systems and avenues can be joined and explored. The sonic experiments of the album play against each other, each element running headlong into the others... At this point in the band's career (both in its previous incarnation as the Shimmer Kids Underpop Association and on previous albums "Sunset Homes" and "Where the Grass Grows Black"), the 10-?member strong collective has rambled across a wide swathe of American musical territory, from quiet country-tinged balladry to ceiling-shattering garage rock, and, much like similarly restless heroes Neil Hagerty and Jason Pierce, the band continues to push the boundaries of their playing in an effort to find more room to grow. With its energetic wall of sound and kaleidoscopic backdrop of experimental films, combining equal parts distorted guitars, three-part harmonies, and Stax-Volt horns The SOR deliver the record-collector's version of a raucous Sunday church service. Hallelujah, and welcome to the congregation."